Ban giraffe "trophies" -- endangered status now!
To the US Fish and Wildlife Service and the International Union for the Conservation of Nature:
Wealthy trophy hunters, overwhelmingly from the US, are helping to drive giraffes toward extinction. It's past time to protect this iconic animal by banning giraffe trophy imports into the US, and urgently listing them as an Endangered Species!
---
Already an Avaaz member?
Enter your email address and hit "Send".
First time here? Please fill out the form below.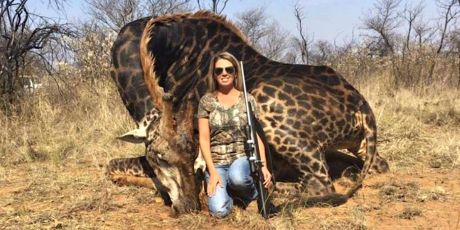 Posted: 2 July 2018
The smiling selfie with the rare giraffe she shot dead is going viral.

An American hunter's tasteless display is causing outrage across Africa -- because giraffes are being hunted to extinction!

Rich trophy hunters are a huge part of the problem, and the US is by far the biggest importer of grisly giraffe parts like hides, tails and even bones. Uggh!

But there's a simple move to give these iconic animals a fighting chance at survival: ban these ghoulish trophies in the US, and get giraffes listed as "Endangered" worldwide! Let's make this viral, vicious selfie the turning point to save these epic animals -- add your name and share everywhere!