World leaders: Refugees are welcome in our countries
To all world leaders:
As citizens from every country on earth, we call you to do your fair share to address the worst humanitarian crisis since World War II. It is urgent that we provide legal, safe routes for the 10% most vulnerable Syrian refugees, and then increase their resettlement in a way that reunites families and shares responsibility across the world. It is crucial that we give financial and technical support to countries on the frontline of the crisis, and ensure security actions do not violate international law, or put those seeking sanctuary at risk. The magnitude of this crisis requires united, urgent and massive humanitarian action.
---
Enter your email address: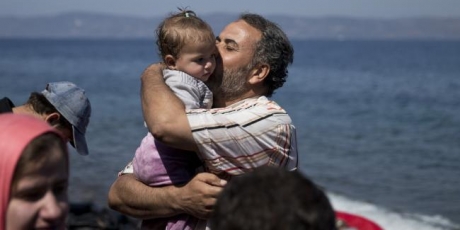 700 people! That's how many drowned trying to reach the shores of Europe just in the last few days. More babies. Mothers. Students with dreams of making a difference in the world. It's unthinkable and it feels like it will never end. But make no mistake, we can be the tide that stops this tragedy. And here's how.

In 4 months, the UN and the US are convening world leaders to address the refugee crisis in New York. It may sound far away, but closed door negotiations have already started. If we wait, we will be too late to have any influence. But if we act now to demonstrate the massive public demand that exists for ambitious solutions to this crisis, we could make September a historic moment -- winning a humane, 21st century refugee agreement for the world.

Click below to join the largest petition ever to tell our leaders that refugees are welcome and wanted in our countries. If we can make this big enough, Avaaz staff will deliver our voices to the head negotiators attending the refugee summit.