A lifeline for Yemen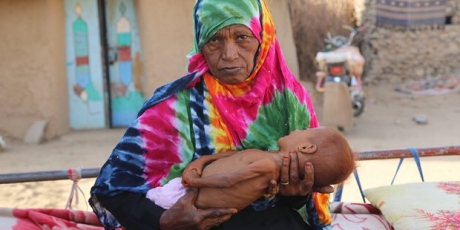 In Yemen, every 10 minutes a child dies from malnutrition, a cholera outbreak looms, and despite 18 million (!) Yemenis now needing aid, a savage Saudi bombing campaign threatens to cut off all access.

It's an apocalyptic scenario for these innocent people, but the world has barely noticed.

Why? More than a dozen of our governments are fuelling Saudi's war. For our leaders, Saudi friendship and oil are more important than Yemeni lives. Trump just signed a new $100 billion arms deal!

But Avaaz is unique and we can help -- our money comes from ordinary citizens with no policy agenda. We can be a lifeline for Yemen's people and show them that we are not our governments, that we care about the desperate situation they're facing, and will fight to get aid in, to stop the bombing, and, as there are no foreign journalists, we'll get reporters into the country to expose this nightmare.

Honestly, this is as bad as it gets. But we stand in the lucky position of being able to do something about it. Chip in and let's throw Yemenis the lifeline they've been looking for.