Stand with the Amazon defenders
To Brazilian President Jair Bolsonaro :
We call on you to stop waging war on the Amazon and its people, halt any mining activities or projects in indigenous lands and stop the aggression against the peaceful protests marching to Brazil's capital in the next few days. The world stands with the indigenous marchers, and we won't let go of their hands!
---
Enter your email address: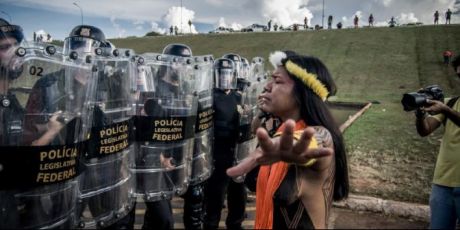 Right now 5,000 brave indigenous are marching against Amazon destruction in Brazil's capital. It's a make or break moment to protect their sacred lands -- and we can help!

Brazil's new far-right president Jair Bolsonaro is waging a furious war on the Amazon. He's opening it up to businesses and mining companies, and even boasted about him and Trump exploiting it together!

The indigenous are just miles away from Brasilia, where the government sits, and Bolsonaro just deployed the elite national force in the streets. A massive petition now could shine a global spotlight on this awful crisis, with our voices shielding them from any violence. But we need to be quick.

Sign the petition now and once enough of us join, we'll send it to editors of key international media and deliver it to the indigenous leaders themselves, so they know we got their back!