Save Yemen's children, blacklist Saudi Arabia
Antonio Guterres, Secretary General of the United Nations:
We demand you to take a decision based on evidence, not political or economic interests, and add Saudi Arabia to the list of countries and entities that kill and maim children. Children whose lives have been devastated by the conflict in Yemen deserve nothing less.
---
Enter your email address: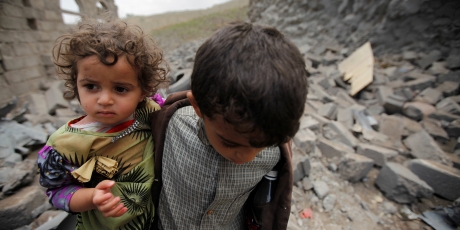 Saudi Arabia's just bombed Yemen's capital yet again, killing at least six children. That takes the total number of kids they've killed to a heart-wrenching 689.

It'll keep rising unless we break this reign of terror -- and now we've got a way to do it.

Right now, the UN is deciding if it will put Saudi Arabia on a Black List for child killers. Putting them on this list would make them international pariahs, too risky for arms suppliers to deal with -- and if countries like Canada, the US, and the UK continue to do so, it'd open the door for domestic legal challenges and political scandal.

Saudi Arabia is 100% reliant on foreign arms -- if we get them blacklisted we've got a shot to cut them off, and save more innocent Yemeni children from being wiped out. The Saudis will do everything they can to stop this from happening -- let's build a million-strong call to create critical public pressure, then deliver our names straight to the UN headquarters in New York.