Stop The Nigel Farage of Newspapers
To Lord Rothermere:
As readers of your paper and members of the public, we call on you to reel in or reconsider Paul Dacre, as the editor of the Daily Mail. He has become the Nigel Farage of newspapers. He claims to be a champion for press freedom, but over the last few weeks he has used the paper to stoke fear, hate and xenophobia in the UK, while offering virtually no Remain campaign perspective. Worse still, he harms the journalistic integrity of the Daily Mail by allowing front page stories to run based on untruths. We are deeply concerned by the rising divisions in the UK and want the Mail to play a constructive role, not fuel discord.
---
Enter your email address: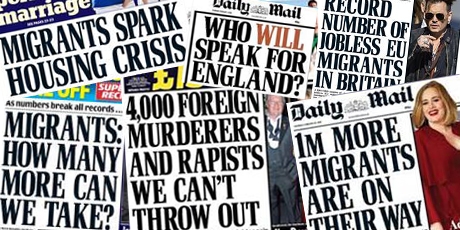 The day Jo Cox was murdered, the Daily Mail ran a shrill front page story about migrants, stoking fear and hate in the referendum campaign. The story was plain wrong -- but instead of remorsefully retracting it, the Mail just buried a tiny correction in the paper.

Our democracy relies on media that tells the truth, but the Mail's anti-EU editor, Paul Dacre, has spun a steady stream of misinformation and fear, adding to a climate where rage and xenophobia flourish. This is not what one of Britain's biggest newspapers should do on such a significant national decision.

But there's a chance to stop it. Rumours abound that the Mail's owner Lord Rothermere, who is pro-Europe, sees Dacre as a growing liability, and is considering replacing him. If tens of thousands of us call him out for what he is -- the Nigel Farage of newspapers -- it could catch on, trigger a broad push and help end this hate media. Join this urgent call and share with everyone.



Promoted by Nick Flynn on behalf of Avaaz Campaigns UK, a company incorporated in England & Wales under company registration #09475510 and whose registered address is at 49-51 East Rd, London N1 6AH.