Chevron's Last Stand
To Bill McNabb and the Vanguard Investment Oversight Committee:
As citizens concerned with Chevron's oil pollution in Ecuador, we urge you support the shareholder proposal by Zevin Asset Management, referencing the Ecuador case, and use your influence to get others on board. We strongly encourage you to use Vanguard's full weight with Chevrons management to help reach a fair settlement with the affected communities in Ecuador.
---
Enter your email address: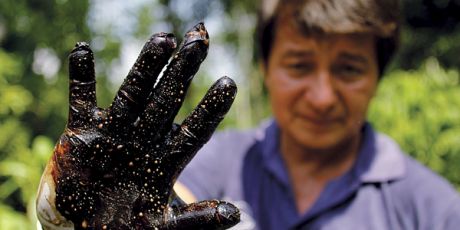 For decades, Ecuador's indigenous tribes have been fighting oil giant Chevron for dumping oil waste poisoning the water and land, causing a cancer epidemic and an environmental nightmare -- but now we have a unique chance for justice.

Chevron has refused to clean up its oil mess in Ecuador, even though three major courts found it guilty. Now, with their annual meeting coming up in two weeks, dozens of shareholders are challenging the new CEO to settle the case. If we get major investors behind this plan, Chevron's management may crumble.

Investor powerhouse Vanguard owns large parts of Chevron. They can tip the balance, and chairman McNabb recently urged CEOs to be a force for good. Avaaz will bring our voices of encouragement directly to Vanguard's Investment Committee, right before the vote -- let's get to a million fast!