Obama: Stand with Standing Rock
To President Barack Obama:
We, people from every corner of the earth, urge you to go to Standing Rock and protect this sacred place for generations to come, by directing the U.S. Army Corps of Engineers to stop the construction of the Dakota Access Pipeline once and for all. The pipeline will cause serious harm to sacred indigenous lands and water, risks an oil spill, and is counter to your commitment to stopping climate change.
---
Enter your email address: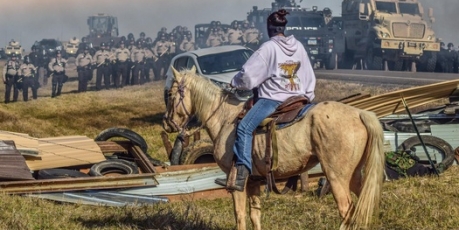 The US army just announced that in five days Standing Rock's courageous indigenous camp must be cleared!

These tribes have been met with rubber bullets, pepper spray, attack dogs, and water canons for just peacefully protesting a monster oil pipeline slicing through their sacred waters and lands.

But President Obama can stop this crisis with the stroke of a pen, and he's coming under increasing pressure from the Democratic Party to act.

No other movement can get a million people to show this is a concern in every country on earth and deliver it to the White House before the deadline. Let's get Obama to go to Standing Rock, ensure a full indigenous consultation, and stop this pipeline for good. Sign the petition on the right now.