Let's stop the Trumps taking over Europe - join our declaration:
"We are Europe. We are committed to standing strong for our liberties and togetherness against attempts to divide us with fear, prejudices and violence. Unity will be our best weapon to save the world we all aspire to."
---
Enter your email address: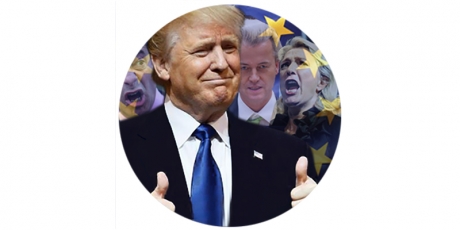 Guess WHO's coming to Europe?

A man who calls women "fat pigs" and refused to rule out dropping a nuclear bomb on Europe. TRUMP himself!

His vision of fear and violence has fueled dangerous hatred in America. And now he's starting his crusade to bring all this to Europe, just when the far-right is rising and Britain could vote to leave.

Let's tell Trump and his European counterparts to keep their hate out of Europe, before they also tear apart our societies.

Trump is arriving on the eve of the vote in Britain, where a man called Boris Johnson - who compared the EU to a Nazi superstate - is leading the charge to split us apart. Let's stop them - join our call for unity - once we hit 1 million we'll deliver it directly to Trump, Johnson and their comrades with protests, banner-drops and secret actions!