Fight the Hunger Pandemic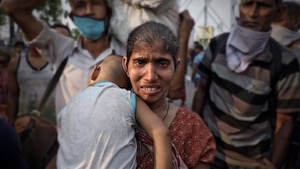 They say a picture is worth a thousand words -- but this one left me speechless.
A hungry mother in India, baby in her arms,
bursts into tears after queuing for food -- only for it to run out before she could get any.
Now the UN is warning the world is on the brink of a famine of 'biblical proportions' with a
QUARTER OF A BILLION people, like this young mum, staring starvation in the face!
Brave local groups and aid workers are working around the clock to fight this 'hunger pandemic', doing all they can to feed hungry, desperate children, and fight the virus. But they're working on a shoestring, and
they need our help!

There's 60 million of us -- let's go all out to
urgently raise more than ever, and Avaaz will give 100% of the funds to those doing heroic work to feed families, and save lives
from COVID-19. Chip in now and let's together join this epic global effort so no one has to watch their children starve.
Posted: