Running on Orangutan blood?
To the Presidents and Prime Ministers of the 28 EU countries and European Commission President Juncker:
As Europeans who care about tropical forests and wildlife, we call on you to stop subsidising biodiesel made from palm oil that fuels massive deforestation and the killing of orangutans in South East Asia. We urge you to support the cross-party European Parliament decision to end public support for palm oil biodiesel. As key leaders of the European Union, you hold the key to stop forcing EU citizens to burn precious rainforests in our tanks, and instead take decisive steps against climate disaster.
---
Enter your email address: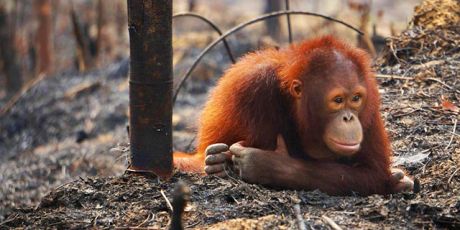 It's foolish and deadly -- but millions of our cars are essentially running on precious tropical trees and... Orangutan blood.

How can that be? An EU policy that's helping fuel massive deforestation in South East Asia, and killing over a thousand orangutans every year, just to clear the way for palm oil plantations to produce diesel.

But the European Parliament is determined to reverse the perverse incentives behind this madness, and now MEPs and environmental groups are calling on our community to help!
Experts say citizen support can persuade key EU governments to join the proposal that says NO to cutting down rainforests for fuel. Sign now – MEPs José Blanco and Bas Eickhout will take our voices directly into the crucial negotiations in Brussels this Thursday.