Google: Don't fund fake climate "news" !
To Sridhar Ramaswamy, Senior Vice President of Ads & Commerce at Google:
Google should follow the lead of other forward thinking brands like Kellogg's, Vanguard, and Appnexus - as well as Google's own Adsense guidelines - and immediately stop selling ads on sites like Breitbart News that peddle climate change denial and hate.
---
Enter your email address: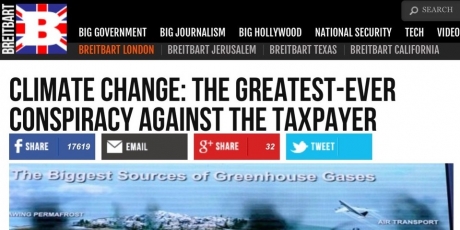 Donald Trump's go-to news source is a fast growing far-right site that calls climate change a "conspiracy against the taxpayer."

Breitbart News mixes climate lies and conspiracies with racist, sexist tabloid reporting. Their flood of fake news threatens everything we fight for.

But they rely on google for ad revenue. And getting the search giant to pull their money could starve Breitbart and end its catastrophic rise!

Google's own rules ban ads next to hate content like this -- sign to the right to call on them to act!