Our best chance to save the elephants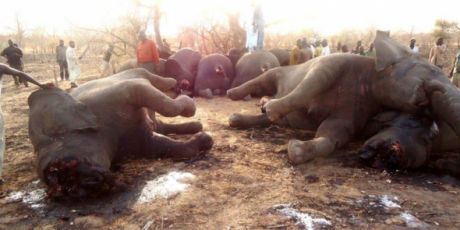 Dozens of heavily-armed hunters rode into a national park in Cameroon, butchered over 600 majestic elephants, then hacked off their faces for their tusks.
Poachers have annihilated half of central Africa's last elephants. And no one's been able to stop them.
Until now!
Brave investigators have gone undercover in poaching rings in ten African countries, and
already more than 2,000 traffickers have been jailed!
It's awe-inspiring stuff, and it's won awards, but many funders are wary of going head-to-head with organised crime. We may be the best community to scale this extraordinary operation, fast.
Four elephants are killed an hour
-- it's a race against time before we lose these gentle giants forever. But if we each give now, this team can expand to more countries, lock up more kingpins and complicit officials -- and we can ramp up campaigning to protect these beautiful creatures and all of our vulnerable natural world.
No other effort is having this rate of success! Chip in now.
"Photo source: SOS Elephants of Chad"
Posted: 16 October 2018