Indonesia: Free Yanto!
To Indonesia's President Mr. Joko Widodo:
As citizens from around the world, we are concerned by the crackdown on West Papuans and strongly urge you to free Yanto Awerkion immediately. We also urge you to ensure freedom of expression and the ability to participate in campaigns for Indonesians in West Papua and across the archipelago -- including by removing the ban on the Avaaz website in Indonesia.
---
Enter your email address: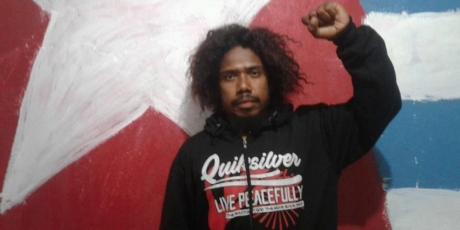 This is urgent: Yanto is an Avaazer in Indonesia and he's just been locked up. His crime? Signing and sharing an Avaaz community petition!

It's completely outrageous that he's suffering alone in a jail for this. But the petition he supports calls for independence for his island, West Papua, and the Indonesian government is cracking down on anyone that challenges them about this.

Yanto's friends and family say a massive global outcry calling for his release could set him free -- so let's pile on now and show the Indonesian authorities that support for Yanto goes way beyond their borders. President Widodo cares about his global reputation so when we get a million signers, Avaaz will take out a big and bold ad in Financial Times to grab his attention.

Add your name and share this widely -- let's quickly get one million to help save our friend Yanto!