UK: Stop selling arms to Saudi Arabia
To Foreign Secretary Johnson and Prime Minister May:
As you know, British bombs sold to Saudi Arabia have been used in Yemen to murder and maim children, targeting hospitals and schools. As citizens of the world, we urge you to impose an arms embargo on Saudi Arabia and to call for an independent investigation of the abuses committed during this war.
---
Already an Avaaz member?
Enter your email address and hit "Send".
First time here? Please fill out the form below.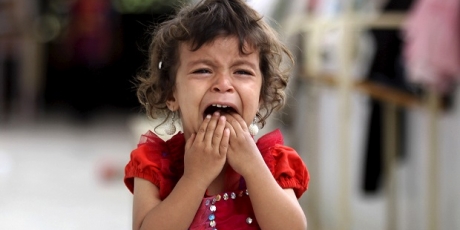 It's the worst humanitarian crisis in the world. 10 million Yemeni children desperately need aid, yet Saudi Arabia keeps dropping bombs. Our government says it's terrible, but they're the ones providing the weapons that make it possible.

In 24 hours our ministers will roll out the red carpet to welcome the Saudis to London for the world's biggest arms bazaar so they can stock up on more bombs.

Foreign Secretary Johnson considered stopping arms sales to Saudi last year, but money won out and he looked the other way. This year can be different: the suffering in Yemen has finally captured the media's attention and Johnson wants to avoid another PR nightmare.

Sign now and when we reach 50,000, Avaaz will take out ads all over the city and make a massive public spectacle so Johnson and PM May have no choice but to stop selling bombs to murderers.