Sunday 12pm: Help carry the banner of love
 Sign up to break the Kissing Record:
RSVP now:
---
Enter your email address: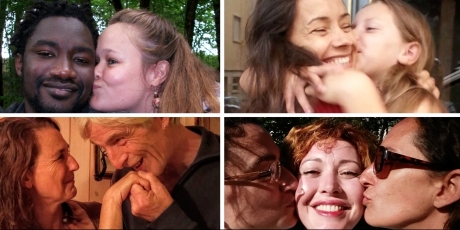 Only light can sweep away the darkness, only love can heal hate. As we mourn for and honour Jo Cox, we also have to go on -- to
carry forward the banner of love and hope for a better world
that she carried so gracefully. To unite, as her husband Brendan said, "to fight against the hatred that killed her."
And to do just that,
on Sunday hundreds will be kissing against Brexit
-- attempting to break a Guinness World Record for the largest kiss! The kissing chain will be continued in Rome, Paris and Berlin, sending a powerful message that
we're taking back our politics from fear and lies
with beautiful unity and humanity. And it starts in London.
RSVP on the right
, and bring everyone you love -- text them, call them, share the event on Facebook. Let's pack the square and show the world the power of love:
When: June 19th, 12 noon

Where: Parliament Square

What: The Kissing World Record
Promoted by Nick Flynn on behalf of Avaaz Campaigns UK, a company incorporated in England & Wales under company registration #09475510 and whose registered address is at 49-51 East Rd, London N1 6AH.