EU: Stand with Poland's LGBT communities
To the European Commission, the European Parliament, and the European Council:
As citizens around the world, we are horrified to see the government of Poland whipping up hatred against LGBT people. The EU has been a world leader in defending human rights. Now they are being attacked in the heart of Europe, and we urge you to do all you can to defend LGBT communities, up to and including sanctioning and suspending Poland's EU voting rights.
---
Enter your email address: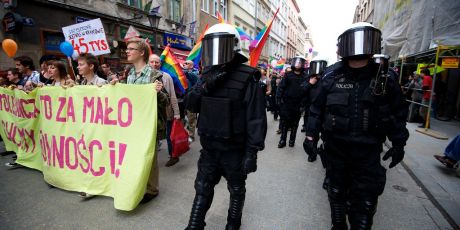 It's shocking -- LGBT people attacked in the streets. Towns declaring 'gay free zones'. Newspapers giving out homophobic stickers. And all this in the heart of Europe!

The LGBT community in Poland is coming under attack, being demonised by the hard-right government ahead of elections -- and it's turning violent.

Pride marches have been attacked by gangs of homophobic thugs emboldened by the hateful rhetoric flowing from government offices. Even Trump's ambassador has said it's appalling!

This goes against everything Europe stands for. It can't go unpunished. The EU could sanction and even suspend Poland for this all out assault on human rights -- let's build a giant call right now demanding action to protect gay people in Poland whose only crime is love!