EU - Protect our health and environment from Monsanto!
To the European Commission and EU Member States:
As citizens around the world we are alarmed that glyphosate is "probably carcinogenic to humans." We call on you to exercise the precautionary principle and immediately suspend approval of glyphosate, present in herbicides like Monsanto's RoundUp. We request you include the studies in the International Agency for Research on Cancer's report in your current safety assessments, and ensure all reviews are transparent, based on independent studies, and evaluated by independent researchers without conflicts of interest. Until glyphosate can be proven safe, you must ensure people are not exposed to it.
---
Enter your email address: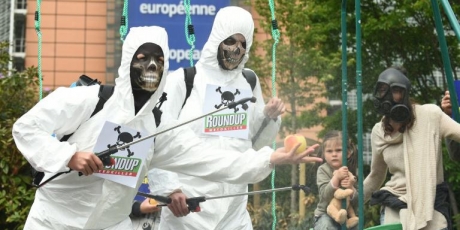 A toxic weed-killer that probably causes cancer is so common that studies have found it in our blood, but we have no idea when we are exposed to it.
Now, for the first time ever, glyphosate could be banned -- THANKS TO OUR MASSIVE CAMPAIGNING!!
For a year Monsanto has lobbied Europe to re-approve this poison, and Avaazers have blocked every time. Now it's being brought to a final vote, and the chemical giant is pulling out all the stops.
But public pressure is beating them out, and we have an extraordinary, against the odds, chance to win.
We have just days! Sign the urgent petition now -- if we get action in the EU, it will set a precedent for it to be removed everywhere. Each signature counts -- our numbers will be shown on an LED screen right outside the meeting.