Save Yemen from famine
To US President Donald Trump, Senior Advisor Ivanka Trump, and Secretary of State Rex Tillerson:
As global citizens concerned by the imminent famine in Yemen as well as the massive human suffering as a result of the Saudi-led war, we strongly urge you to revoke US support of the Hodaida attack. Experts warn that this attack will put Yemen over the edge into famine. Millions of innocent civilians need your leadership to stop the war, keep the ports open, and ensure humanitarian aid is delivered safely to millions who urgently need it.
---
Enter your email address: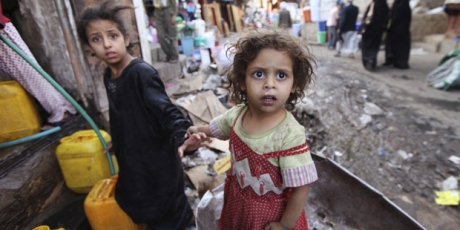 Right now Saudi Arabia is planning a ruthless bombing campaign on Hodaida, Yemen's only major port. If they do it, it will be the end for millions of Yemenis who could starve to death.

This war has felt utterly hopeless, but finally we have an opportunity to act.

Donald Trump just announced he's visiting Saudi Arabia in a few days, and the Hodaida attack will definitely come up. The US Defense Department is pushing to join the strikes, but Trump could still hear from top advisors like Ivanka Trump and Rex Tillerson who both understand the human cost this massacre will have.

If we quickly build a massive campaign urging them to stop the Hodaida strikes and ensure humanitarian aid continues reaching the port -- we can save millions of people from unimaginable suffering. Add your name, and for every 10,000 signers, Avaaz will send Ivanka a photo of a Yemeni child urging her to act.