Let's encourage these climate champions to lead!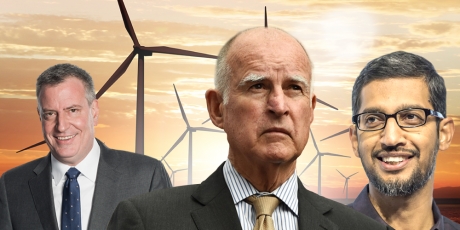 From left to right: New York City Mayor Bill de Blasio, California Governor Jerry Brown, Google CEO Sundar Pichai

Just imagine what a powerful signal it would be if US cities, states and firms unleash this unprecedented climate revolution from below!

It's going to demand courage and coordination from the leaders of California, New York and Google to step up in the face of Trump's presidency.

Let's send them all our encouragement to be champions with thousands of inspiring messages from all over the world. Send a message on the right -- the more personal your message, the more impact it will have. Avaaz will deliver them directly to the leaders.

Then use the buttons below to share this campaign -- let's get one million global voices to these US climate heroes to save us from Trump!